For Dior's 75th anniversary men's show, creative director Kim Jones paid homage to Christian Dior himself. Below, British Vogue's fashion critic Anders Christian Madsen shares five key takeaways from Dior's autumn/winter 2022 men's show in Paris.
This year, Dior is celebrating its 75th anniversary. "We thought it would be nice to go back and pay homage to the man himself," Kim Jones said during a preview the day before his show. He did so in a collection which forewent his usual collaboration element in favour of a devotion to the heritage of Christian Dior himself, whose archives account for the first ten years of the house's history.
The show set recreated a famous Paris bridge
The show took place in a tent on Place de la Concorde in which Jones had erected a one-to-one copy of the Pont Alexandre III, no doubt Paris's most extravagant bridge. Models walked along the bridge to a video backdrop of the Paris skyline where the sun slowly set on the show as it came to an end. Jones took his bow with Stephen Jones, the milliner who has worked for the house for 25 years this year, and created a masculine version of the founder's berets for the collection.
The collection was pure Dior
"I think what we do here is very true to Dior in terms of what he was looking at and how he'd look at things. The artist collaborations were very much to do with him being a gallerist. He was friends with writers," Jones said, explaining the motivation that drove his previous collections for the house. This one, he said, was the beginning of a new chapter. The collection was pure Dior: interpretations of the couturier's most characteristic designs – the Bar jacket, the wrap coat, the Lady Dior dress – for a contemporary men's wardrobe.
Jones filtered in some sportswear
"75 years of a designer starting a house, you can't really fault it. You have to look at it and say, that was really modern for its time," Jones said, asked if Christian Dior's heritage will resonate with a younger male Dior customer. He wrapped his archival references in elements from sportswear like tailored track pants, getting the point across through a language that new generations can relate to. And, as Jones said, "I think young people want to learn about things. The thing about Dior is it still looks modern when you see pieces from the archive. That's probably why it's still here, and so big."
There were nods to Dior's passion for gardening
The only collaboration this Dior collection featured was one Jones couldn't escape: "We've done a Birkenstock, but only because we didn't want to do a Christian Dior gardening shoe and copy it." Christian Dior, of course, was a keen gardener and any tribute had to remember his own pastime wardrobe. Jones nodded at gardening in bags as well, creating a kind of leather cornet he sent down the runway packed with pink roses.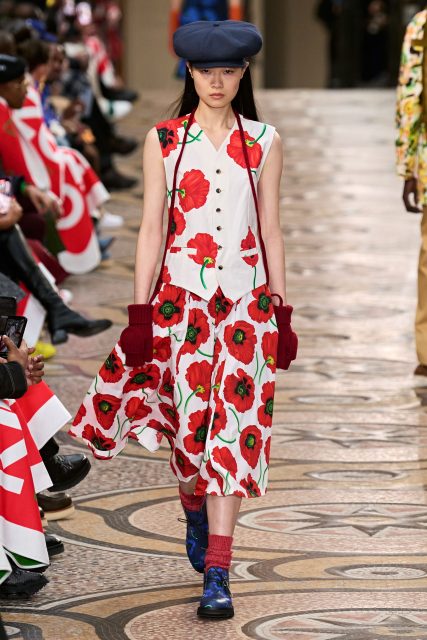 Editor
Anders Christian Madsen
Credit
Lead Image: Filippo Fior / Gorunway.com